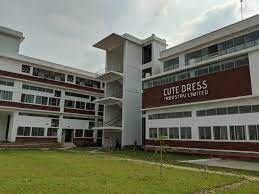 After looking at multiple different manufacturers in many different countries we finally decided to go with Cute Dress Industry Ltd. in Dhaka, Bangladesh. We decided we wanted to go with a sustainable and ethical manufacturer who produces top notch clothing. Cute Dress met all our goals. They treat and pay their workers fairly. produce their own energy and recycle what they can. This made Cute Dress a good fit to move forward with. Once we received our production sample from them we knew we found our manufacturer.
Solar Energy is important to us and our manufacture. In 2022, 13% of their energy was derived from solar powe. Their target for 2025 is to derive 50% of it's electricity from renewable sources. On top of using solar power for energy, they also recycle water.
Gray water which was used in the used for showers and hand washing is then captured and filtered then used for gardening, toilet water, etc. On top of that, low-flow water taps, faucets and toilet flushing systems are also in place to cut down on the amount of water used.
Recycling is a big deal for us and our manufacture. In 2022, Cute Dress recycled over 325,000 pounds of cutting room waste clothes. Over 8,900 pounds of plastic and more than 59,000 pounds of paper. In a typical clothing manufacture, most, if not all of this waste would end up in a landfill. We at Anchor Underwear and those at Cute Dress believe we owe it to the planet to do our part and recycle what we can.